From cubicles to conference rooms, the office can be decked out in spooky style during Halloween. Whether you're responsible for filling the workspace with festive decorations or in charge of throwing a frightful party, making an effort to add some holiday spirit can make all the difference when it comes to setting your team up for success and having fun!

Here are some tips on how to decorate office for Halloween without going overboard. From subtle seasonal touches like hanging spider webs from windowsills to full-fledged costume parties complete with spooky treats and music – there are plenty of ideas that will help get everyone in the mood while also providing ample opportunities for creativity. Ready to turn your workplace into a haunted hall? Read on!
How Do You Plan a Halloween at Office?
Planning a Halloween party at the office is a great way to get everyone in the spirit of this spooky holiday. It's also an opportunity to build team morale and foster a sense of community among your co-workers. To make sure your office celebration goes off without a hitch, there are a few tips you should keep in mind.
First and foremost, establish a budget for your party. This will help you decide what kind of decorations and activities to include. Once you've decided on a budget, start brainstorming ideas for the party. Think about popular Halloween activities like carving pumpkins or bobbing for apples, as well as décors such as orange streamers and spider webs.
Next, it's time to create a shopping list of items you will need for the celebration. This should include decorations, food, drinks, and any other items that will be needed. Once everything is purchased and ready to go, you can start setting up the office for the big day!
Hang ghoulish signs around the office to give it an extra spooky vibe. You can also arrange themed tablecloths or spread out some cobwebs and spiders to really get people in the spirit. As you decorate, make sure to keep safety in mind—avoid using open flames like candles or torches as these may pose a hazard within your workplace.
10 Methods How to Decorate Office for Halloween
1.  Spooky Wall Art
Hang some spooky wall art to get your office in the Halloween spirit. You can find some great prints online or at your local craft store. Choose a few prints that fit the Halloween theme, such as bats, spiders, pumpkins, or ghosts.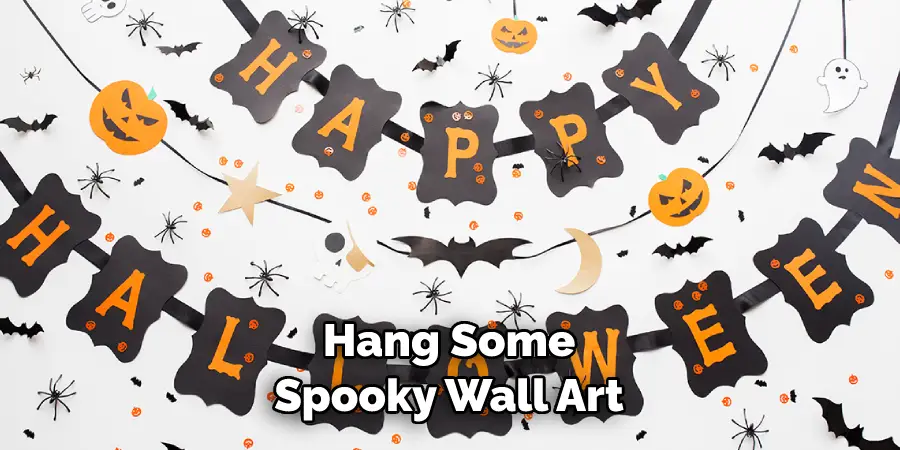 If you're feeling extra crafty, you can make your own wall art using construction paper and other materials. While you're at it, add a few Halloween-inspired quotes to the walls for a bit of extra fun. However, make sure the decorations don't interfere with work productivity. Although you want your office to look festive, you still need to get work done.
2.  Halloween Door Decor
Deck out your office door with some fun Halloween decorations. You can find door covers, wreaths, and other decorations at your local party store. You can also make your own decorations using craft supplies such as construction paper, felt, and ribbon.
Get creative with it and start by making a spooky welcome sign to hang on your door. If you want to get creative, you can even make a Halloween-themed board game or activity and hang it on the door. Whenever someone enters the office, they'll be greeted with a fun Halloween message or activity!
3.  Tabletop Decorations
Add some Halloween flair to your office with some tabletop decorations. Scatter some fake spider webs around, set out some carved pumpkins, or arrange some spooky candles. You can also decorate with creepy figurines, like skeleton figures or other gothic decorations. If you're looking for a more subtle look, try adding a few fall-inspired decorations like a cornucopia or Autumn leaves.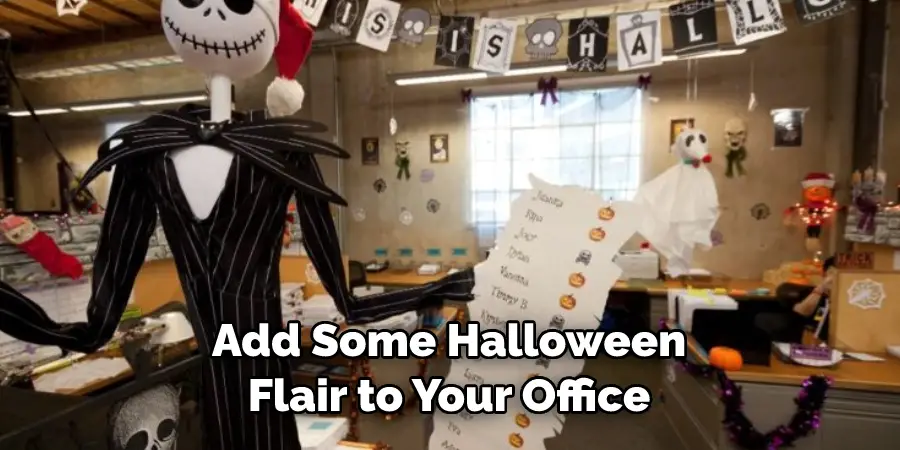 You can also add some traditional spooky items like plastic eyeballs or skulls if you're up for it. To really bring the Halloween vibes to your office, use dry ice in a bowl of water to create a foggy atmosphere. Your co-workers won't be able to resist! Try to think of other unique ways to decorate your office for Halloween.
4.  Window Decorations
Hang some Halloween-themed window decorations to really get people in the spirit. You can find stickers, clings, and even window coverings that will transform your office windows into something spooky.
If you have outdoor windows, try hanging some fun spiderwebs or adding a few life-size cutouts of characters like witches and ghosts. Make sure to add some battery-operated LED lights or candles in your window decorations to really make them pop. With a few simple touches, your office windows will be the Halloween backdrop.
Although you won't be able to have trick-or-treaters in the office, you can still make it look festive with window decorations. Try to keep decorations minimal so as not to block too much of the natural light coming in.
5.  Desk Decorations
Decorate your desk with some fun Halloween items to get into the holiday spirit. You can find desk mats, mouse pads, and even paperweights that are perfect for this holiday. Put out a few Halloween-themed knickknacks, such as mini pumpkins, bats, and witches.
You can also hang up some Halloween decorations on the walls around your desk. Hang up some festive garlands, streamers, and banners to add some spooky fun to your work environment. You can also find Halloween-themed desk organizers, such as pencil holders and trinket trays.
Having a few decorations on your desk will make your workspace more exciting and festive. While you can go all out with decorating your desk, it's best to keep the decorations tasteful and work-appropriate.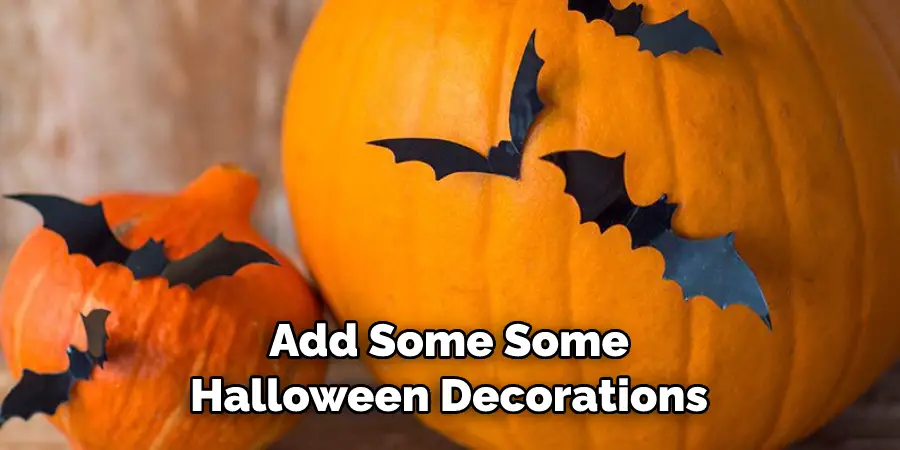 6.  Cubicle Decorations
If you have a cubicle at work, make it festive for Halloween with some fun decorations. You can find cubicle covers, streamers, and other items that will help you transform your space into something truly spooktacular. You can also make your own decorations with colored paper, crayons, and other craft items.
If you're feeling especially creative, you can make your own paper jack-o'-lanterns or ghosts to hang up in your cubicle. For a more subtle look, string up some orange and black streamers or put out a few small pumpkins. Whatever you choose, remember to make sure your decorations are tasteful and not too over the top. However, it is Halloween, after all!
7.  Floor Decorations
Decorate the floor of your office with some fun Halloween floor decals. You can find these online or at your local party store. They're great for adding a bit of flair to any space. If you're looking for something a little more permanent, consider painting the floor with glow-in-the-dark paint. This is great for adding a spooky element to the office.
You can also line the floor with pumpkins or gourds, which will bring an autumnal feel to your office decor. If you're feeling creative, you can add a bit of craftiness and create paper cutouts of bats or spider webs to place on the floor. While these decorations may not be as permanent, they're sure to add a festive touch. No matter which type of floor decoration you choose, it's sure to make your office more festive and inviting.
8.  Ceiling Decorations
Hang some spooky decorations from the ceiling to really give your office an eerie feel. You can find bats, spiders, and other creepy crawlies that are perfect for this holiday. You can even hang ghosts and skulls to really set the mood.
If you're feeling particularly adventurous, you can even opt for some life-sized decorations such as skeletons or goblins. Just make sure that the decorations are secure, so they don't cause any accidents in your office. You can use string, twine, or ribbon to hang them from the ceiling.
Be sure to make sure they are secured properly so that nothing falls when someone walks by. If you do use string, make sure it is strong enough to hold the decorations. Finally, don't forget to turn off all ceiling fans or lights that could get in the way of your decorations.
9.  Lighting Effects
Add some special lighting effects to really set the mood in your office. You can find black lights, strobe lights, and even fog machines that will help create a truly haunting atmosphere. If you're not looking to make that kind of commitment, some LED lights in orange and purple will also help bring the space to life. Just be sure not to go overboard and obstruct the work environment.
While a good fright is sure to be appreciated, the last thing you want is for your office to become too spooky. Although Halloween decorations should be fun and spooky, safety is always key! However, some flickering candles in a dimly lit room may be just the right touch.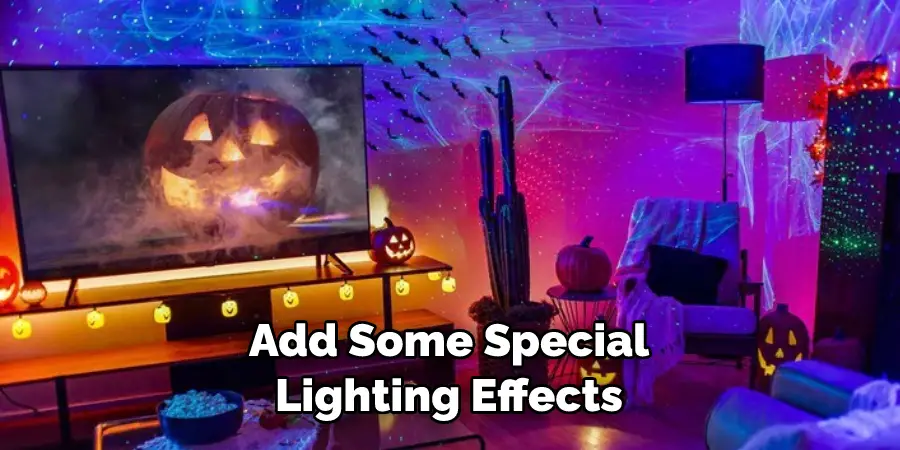 10.  Halloween Music
Create a spooky playlist full of Halloween-themed tunes to really set the mood. You can even find some sound effects that will give your office an authentic haunted house vibe. Make sure the music is not too loud and only plays when everyone is in the office. This will help keep the atmosphere fun and festive without being distracting.
To make it even more fun, you can also invite everyone to share their own favorite Halloween songs to add to the playlist. Additionally, you can even create a Halloween-themed playlist and have everyone in the office contribute to it. This will make sure everyone is involved and having fun.
Following these tips can help you create a fun and festive Halloween celebration in your office. With the right decorations, activities, and music, you can create a memorable Halloween celebration that everyone will enjoy.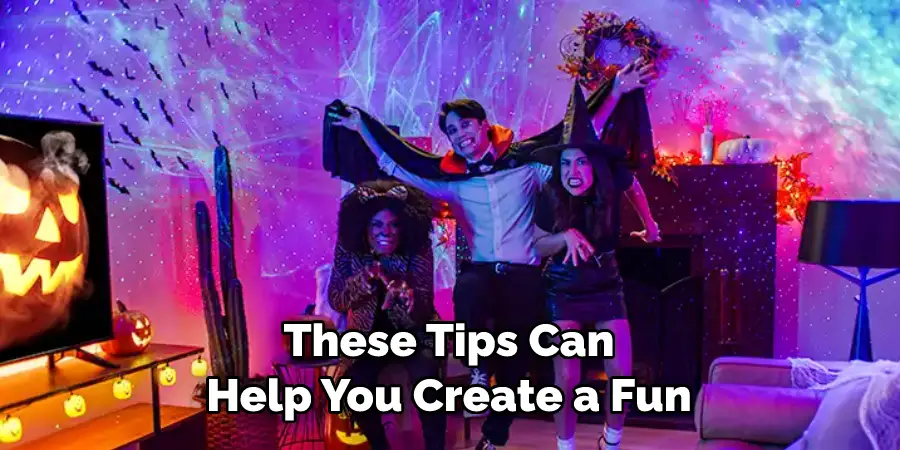 Conclusion
By following these simple steps for decorating your office for Halloween, you can create an eerie yet fun atmosphere enjoyed by colleagues and visitors alike. Your spooky decorations will be the talk of the workplace and bring cheer to employees while they work. Most importantly, don't forget to have fun with it!
Whether you plan on embracing the season or pulling back a little, don't forget that while office decorations should reflect the spirit of this ghoulish time of year, you still want to maintain a professional appearance. Use these tips for sprucing up your workspace in celebration of Halloween and show everyone how spicy things get when you know How to Decorate Office for Halloween!