Have you ever noticed how seemingly small things in a room can make such a huge impact? When it comes to dining chairs, this effect is certainly true. A set of new or reupholstered dining chairs adds vibrancy and personality to your home or business. It's the perfect way to freshen up the look of your space without spending too much money. 
Whether you want an elegant leather finish or something more casual like velvet, there are plenty of options available for customizing each chair. In this post, we will explore the basics behind how to reupholster dining chairs with backs so that you can create perfectly tailored seating for any area of your home!
What Kind of Fabric Do You Use to Reupholster a Dining Room Chair?
The fabric that you use to reupholster your dining room chairs is entirely up to you. Generally speaking, it's best to look for a material that offers durability and comfort as well as visual appeal. 
Heavy-duty fabrics like leather or vinyl are ideal for dining areas with heavy traffic, while light fabrics such as chenille or velvet add a luxurious touch of texture to the room. Additionally, when selecting your fabric, consider the color scheme of the space and try to choose a type that will complement it.
7 Methods How to Reupholster Dining Chairs with Backs
1. Remove the Old Fabric
The first step in reupholstering dining chairs is to remove the old fabric. Use a screwdriver to remove any staples that are holding the fabric in place. Once the fabric is removed, you will be able to access the chair's padding and frame. 
If the padding is still in good condition, it can be reused. If not, you will need to purchase new padding that fits the measurements of your chair. However, if the padding is still in good condition, you should clean it before re-installing it.
2. Choose New Fabric
The next step is to choose a new fabric for your chairs. When selecting fabric, it is important to consider durability, pattern, and color. You will also want to make sure that the fabric is compatible with the type of chair you are reupholstering.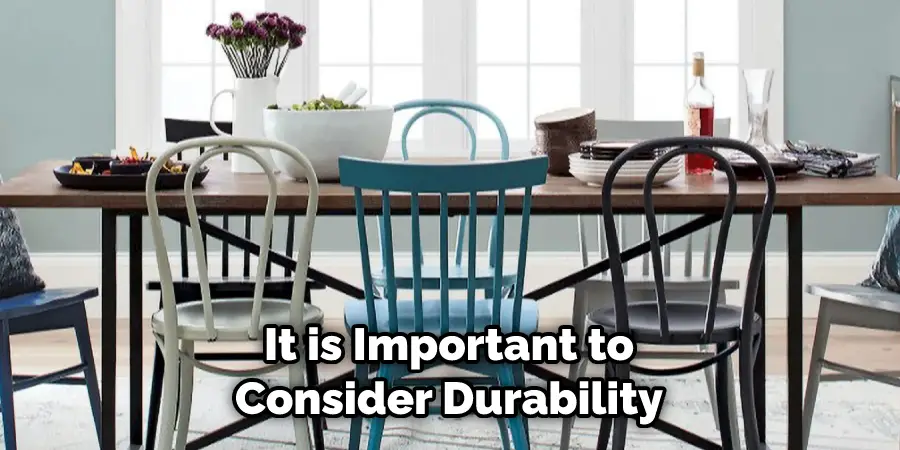 For example, if you are reupholstering a dining chair with a wooden frame, you will want to avoid using a fabric that is too heavy or bulky, as this could damage the wood.
If you are reupholstering a modern chair with a metal frame, you may want to select a fabric that is more durable and will hold up better to wear and tear. However, there is a wide range of fabrics available, so you should have no problem finding one to suit your needs.
3. Cut the Fabric
Once you have chosen your fabric, it is time to cut it to size. First, measure the width and length of the seat of your chair. Then, add an extra inch to each measurement to allow for seam allowance. Next, cut your fabric according to these measurements. 
Be sure to use a sharp pair of fabric scissors and cut straight lines. Try to cut on the same grain of fabric for more consistent results. If your fabric is patterned, you may also want to line up the pattern to make sure it looks even when finished. Although it is not necessary to finish the edges of the fabric before attaching, doing so will help create a more professional look.
4. Attach the Fabric to the Chair Frame
Now it is time to attach the new fabric to the chair frame. Start by attaching the fabric to the back of the chair using staples or upholstery tacks. Then, pull the fabric tight and staple or tack it into place on the underside of the seat. Finally, attach the fabric to the front of the chair in the same manner. 
Once the fabric is attached, the chair frame is complete. If you want to add decorative trim, such as welting or cording, now is the time to attach it. Additionally, if the fabric you chose is not suitable for upholstery, consider adding a sheet of batting or foam padding to the seat and back of the chair for extra cushioning and comfort.
5. Add Padding
If your chairs did not come with padding or if you want to use new padding, now is the time to add it. Cut pieces of foam or batting to fit snugly inside each chair seat. Then, use spray adhesive or upholstery tacks to attach the padding to the underside of each seat. It's important to make sure the padding is cut and attached correctly.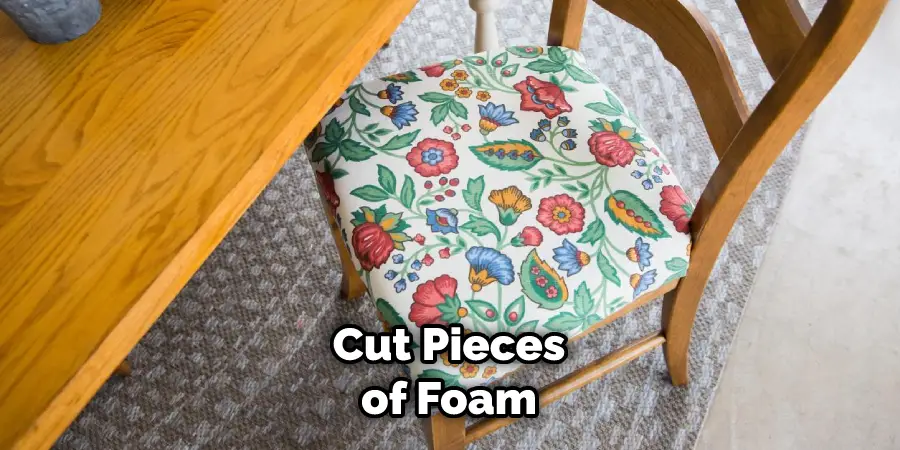 Also, be aware that some fabrics do not work well with spray adhesive; if you are unsure about your fabric choice, consult an upholsterer for assistance. When attaching padding with tacks, you can use a hammer or a tack-pulling tool to secure them in place. Finally, add one more layer of fabric to cover the seat and the batting or foam for added protection.
6. Install the Seats
Once all the necessary steps are complete, it's time to attach the seats back onto the chairs. To do this, unscrew any existing screws on the chair frame and replace them with new ones that match your fabric or upholstery choices. 
If you are reusing screws from an old seat, be sure to thoroughly clean them of any dirt or grime before using them again. Use a screwdriver to fasten each seat securely in place and make sure all connections are tight. Finally, inspect each chair for any loose connections or screws before use.
7. Enjoy Your Refurbished Chairs
When you have completed these steps, you can take a step back and admire your work! Reupholstering chairs can be a fun and rewarding experience. Enjoy your refurbished pieces and the unique character they bring to your space.
With care and patience, you will have beautiful-looking chairs that will last for years to come. If you have any questions or concerns about the process, consult a professional upholsterer for assistance. Happy refurbishing!
Things to Consider When Reupholster Dining Chairs with Backs
1. Select the Right Fabric:
The choice of fabric is important when reupholstering dining chairs with backs. Consider factors such as the fabric's durability, stain resistance, and overall color palette. Don't forget to ensure that the fabric is thick enough so it won't tear or stretch when being used.
2. Choose a Pattern:
If you want to add a bit of personality to your dining chairs, select a fabric with an interesting pattern. Patterns such as stripes, plaids, and floral designs can provide visual interest in your space. When selecting a patterned fabric for your dining chairs with backs, consider how it will look when sitting next to other furniture pieces in the room.
3. Consider Comfort:
For maximum comfort, while sitting in the chair, choose a cushion made from foam or other stuffing material that will comfortably cradle your body. When selecting the padding, consider factors such as its thickness and density to ensure that it provides adequate cushioning and support.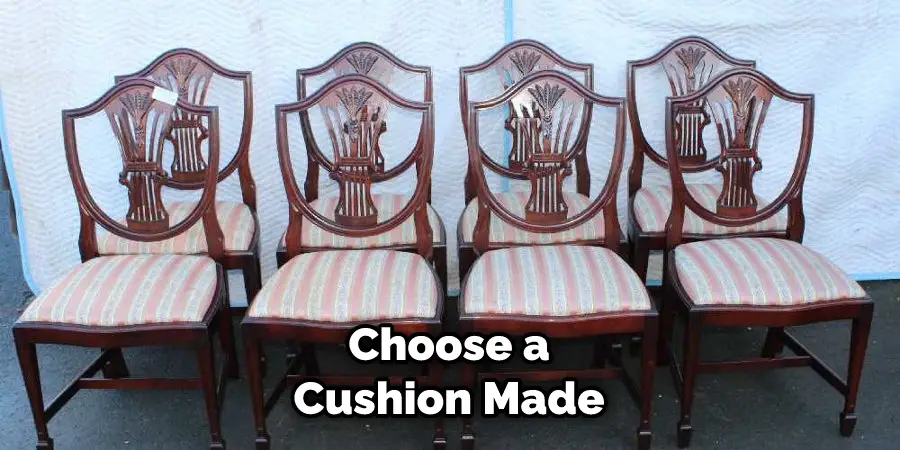 4. Measurements:
To make sure your dining chairs with backs fit perfectly, you must be precise when measuring for fabric and padding. Take measurements of the chair's dimensions, including height, width, length, and seat depth so that you can be sure the new upholstery will fit correctly.
5. Secure the Upholstery:
Once all of the pieces are cut to size and ready to go, secure them properly to prevent them from slipping or shifting over time. Make sure to use secure staples or tacks along all seams to keep the fabric and padding in place. This will ensure that your newly reupholstered dining chairs with backs will remain to look great for years to come.
6. Finishing Touches:
Finally, don't forget to pay attention to the little details when reupholstering your dining chairs with backs. Trim the excess fabric from around the seams and consider adding decorative touches such as tufting or piping for a finished look. With a few finishing steps, you will have beautifully upholstered dining chairs with backs that look like new!
What Is the Best Tool to Reupholster a Chair?
When reupholstering a chair, the best tools to have on hand are an electric stapler or tacker, pliers, scissors, and a screwdriver. A staple gun or tacker will make attaching fabric to the chair frame much easier and quicker than using manual tools. 
Pliers can be used to pull out any existing staples or tacks, while scissors can be used to trim excess fabric and batting. Finally, a screwdriver will help you fasten any loose connections. Having all of these tools on hand before starting a reupholstering project is essential for success!
Conclusion
Now that you've read our guide on how to reupholster dining chairs with backs, hopefully, you will feel inspired and ready to tackle this project yourself. You can save a lot of money by doing it yourself, and it's not as difficult as you might think. 
Just take your time, be patient, and follow the steps we outlined above. If you need any help along the way or have questions, don't hesitate to reach out to us. We would love to see pictures of your finished product, so be sure to share them with us once you're done!
You Can Check It Out to Clean a Saucer Chair