Setting up a coworking space has become a popular option for entrepreneurs, freelancers, and remote workers seeking a productive and collaborative work environment. Whether you're an aspiring coworking space owner or part of a team looking to establish a shared workspace, the process of setting up a coworking space requires careful planning and attention to detail.
From finding the right location and designing the space to implementing essential amenities and creating a vibrant community, there are various factors to consider to ensure a successful coworking venture.
In this article, we will explore the key steps involved in how to set up a coworking space, providing insights and guidance on creating a dynamic and thriving environment that caters to the needs of its members.
By following these steps, you can lay the foundation for a welcoming and functional coworking space that fosters collaboration, productivity, and a sense of community among its diverse members.
Understanding the Concept and Benefits of Coworking Spaces
Coworking is a style of work that involves a shared workplace, often an office, where people from different companies and backgrounds can collaborate and work together. Coworking spaces provide the necessary infrastructure to facilitate collaboration among their members and allow them to focus on their tasks in a dynamic environment.
The concept of coworking has been around since 2005 when Brad Neuberg opened the first coworking space in San Francisco. Since then, these shared workspaces have become a popular option for freelancers, entrepreneurs, and remote workers who are looking to connect with like-minded individuals.
Coworking spaces offer a unique blend of flexibility and collaboration that can be beneficial for both individual employees and companies alike. By providing an environment where individuals can collaborate on projects or learn from each other's experiences, coworkers can stay current with industry trends while benefiting from increased productivity.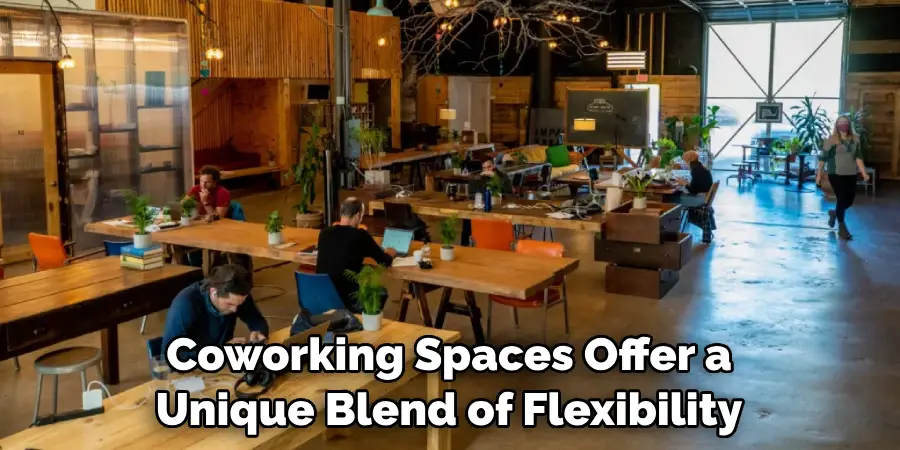 On a larger scale, coworking spaces can also benefit businesses by increasing their visibility in the community and offering them access to new potential customers. Additionally, having members of different organizations working together under one roof can also be beneficial to companies by providing them with new ideas and insights.
Importance of Proper Setup and Design for a Successful Coworking Space
When setting up a coworking space, it is important to keep in mind the importance of proper setup and design. A well-designed workspace will create an atmosphere that encourages collaboration and creativity. It should also be practical, comfortable, and inviting to users.
The physical layout of the workspace is one of the most important elements in creating a successful coworking environment. Careful consideration must be given to how people move about the space, what type of furniture or equipment is needed for efficient use, and how best to organize the overall flow of activity in the space.
A variety of seating options should be included in order to accommodate different types of tasks and activities. The use of dividers or partitions can help break up large open spaces into more intimate areas used for one-on-one conversations or group meetings.
Lighting plays an important role in creating a productive work environment. Natural light can help to reduce eye strain and fatigue while providing a pleasant atmosphere for work. If natural light is not available, then artificial lighting should be used to create a comfortable environment.
10 Methods How to Set up a Coworking Space
Method 1: Define Your Vision and Target Audience
Begin by clarifying your vision for the coworking space. Determine the type of community you want to create and the target audience you wish to attract. Consider factors such as industry focus, work atmosphere, and amenities to align your space with the needs and preferences of your intended members. Establishing a clear vision will guide you as you move forward in the setup process.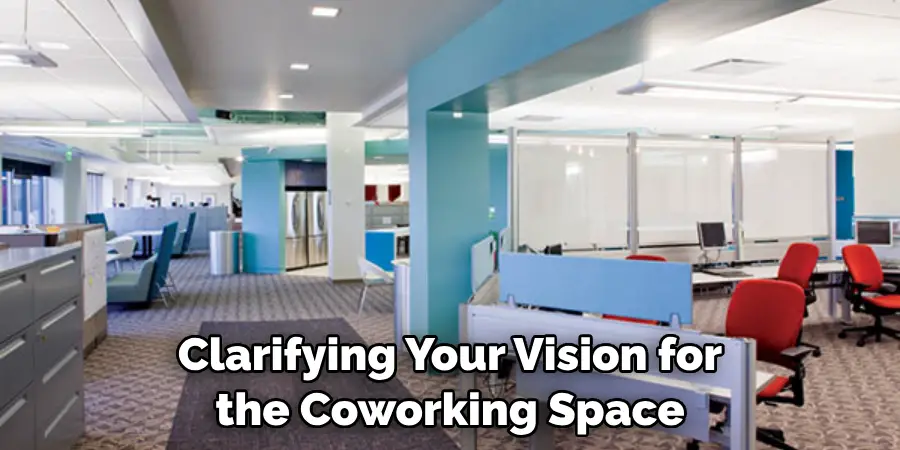 Method 2: Find the Right Location
Choosing the right location is crucial for the success of your coworking space. Look for a central and easily accessible area that is well-connected to public transportation and amenities. Consider the local business environment and competition when selecting a location. It is also important to assess the local rent, space requirements and zoning regulations.
Once you have identified a suitable location, check for available spaces and negotiate with the landlords to get good terms. Make sure that the space you select has enough room for common areas, private offices, meeting rooms and event spaces. Ensure that the space is well-equipped with necessary amenities such as Wi-Fi, kitchenette and good lighting.
Method 3: Assess Space Requirements
Evaluate the space requirements based on your target audience and expected occupancy. Determine the number of desks, private offices, meeting rooms, and communal areas needed. Consider factors such as flexibility for future growth and the allocation of different work zones.
Calculate the number of square feet needed for each space to ensure maximum efficiency. Consider other features such as power outlets, ergonomic seating, and comfortable lighting. Also, think about the layout of the space and how it can be divided into distinct sections to reflect the vibe you want to create.
Method 4: Design the Layout and Amenities
Create a functional and appealing layout that encourages productivity, collaboration, and networking. Plan for a mix of open work areas, private offices, meeting rooms, and breakout spaces.
Include amenities such as comfortable furniture, high-speed internet, printing facilities, and a well-equipped kitchen or café area. Ensure there is plenty of storage for office supplies, documents, and equipment. Make sure the space is well-ventilated, adequately lit, clean and well-maintained.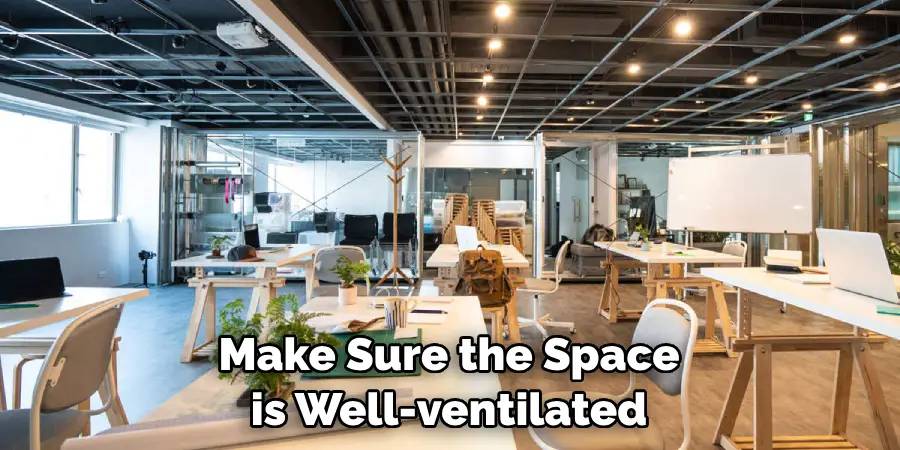 Method 5: Set up Infrastructure and Technology
Ensure that your coworking space has a robust infrastructure to support the technological needs of your members. Install reliable internet connectivity, secure Wi-Fi networks, and IT support. Provide charging stations, sufficient power outlets, and technology integration for seamless operations.
Make sure all technology is compatible with industry standards, and that the space has the necessary software to support any remote work. Additionally, provide access to printers, scanners, and other equipment to support members who may need them. Providing a safe and secure environment is essential for a successful coworking space.
Method 6: Furnish the Space
Furnish the coworking space with ergonomic and comfortable furniture. Choose versatile and adjustable options to accommodate different work preferences. Consider providing storage solutions and lockers for members to secure their belongings. Place desks and chairs in strategic positions, so members can collaborate easily.
Make sure to include electrical outlets for charging devices and adequate lighting. Invest in a high-quality sound system to create a pleasant atmosphere. Also, consider providing food and coffee options for members to enjoy during their work day.
Method 7: Create a Community Culture
Foster a sense of community by organizing regular events, workshops, and networking opportunities. Develop community guidelines and establish a code of conduct to ensure a positive and inclusive environment. Encourage collaboration, knowledge sharing, and engagement among members.
It's important to create an atmosphere where everyone feels respected and included. Hosting socials, potlucks, movie nights or other fun activities can help people get to know each other and build relationships. Offer a range of events that fit different personalities and interests.
Method 8: Implement Membership Plans and Pricing
Design membership plans that cater to the diverse needs of your target audience. Offer flexible options such as daily passes, part-time memberships, and full-time memberships. Determine pricing structures based on factors like location, amenities, and services provided.
When setting up membership plans, consider features like access to conference rooms, discounts on services at partner businesses, and additional benefits like child care. Be creative and come up with packages that are attractive to your target customers. When pricing memberships, offer discounts for longer-term plans to encourage people to sign up as members.
Method 9: Market and Promote Your Coworking Space
Develop a comprehensive marketing strategy to promote your coworking space. Create a professional website, leverage social media platforms, and collaborate with local businesses and organizations. Highlight the unique features and benefits of your space to attract potential members.
Method 10: Focus on Member Experience and Satisfaction
Continuously prioritize member experience and satisfaction. Gather feedback and actively seek input from members to improve your offerings and address any concerns. Regularly evaluate and upgrade your services, amenities, and community initiatives to meet evolving needs.
Conclusion
All in all, setting up a coworking space takes thoughtful planning and preparation. As challenging as it may be, it is ultimately worth the effort because of its potential to enable companies to maximize workspace utilization, reduce costs, and cultivate an inspiring atmosphere for employees to work in.
With this advice in mind, now is the time to take action by learning how to set up your own coworking space. There are plenty of resources available online from which you can guide your journey from the planning stage all the way through to taking occupancy.
Being informed and prepared on how to set up a coworking space gives you an advantage in providing employees with a well-suited workspace that caters specifically to their needs – allowing them greater opportunity for efficiency and collaboration which can only have positive effects on overall company success.