Are you tired of the same old drab and uninspiring cubicle? Halloween is the perfect opportunity to inject some spooky fun into your workspace and make it the talk of the office.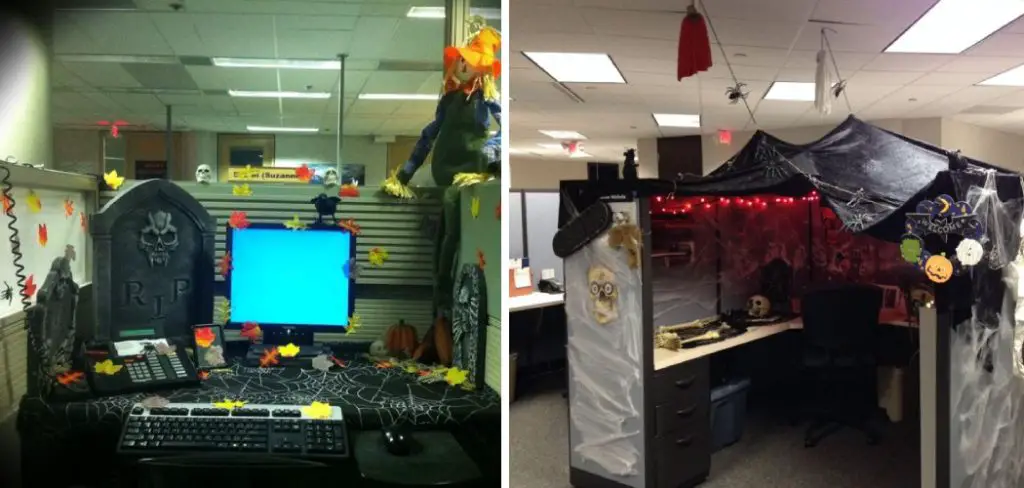 Decorating your cubicle for Halloween doesn't have to be a daunting task. With a little creativity and some simple decorations, you can transform your workspace into a haunted haven that will delight your coworkers and boost your own Halloween spirit.
Whether you prefer a classic Halloween theme with jack-o'-lanterns and cobwebs or want to go all out with a haunted graveyard or witches' coven, there are plenty of ways to bring the Halloween spirit to your cubicle.
In this article, we'll explore how to decorate a cubicle for Halloween and create a spooktacular atmosphere that will make everyone want to stop by for a frightfully good time.
Importance of Decorating Your Cubicle for Halloween
Decorating your cubicle for Halloween can help to boost morale and bring a sense of festivity to the workplace. It also helps to create an atmosphere where people feel comfortable and connected with one another, allowing for better communication and collaboration between team members.
Furthermore, it allows you to show off your creativity, which can make working in an office much more enjoyable. With even a few simple decorations, you can easily transform your cubicle into a spooky and fun space that will be the talk of the office. So don't hesitate to get creative this Halloween – decorate your cubicle today!
In addition to the morale boost, Halloween cubicle decorations can also show your coworkers and supervisors that you are invested in the company. By spending time and effort to make your work environment more festive, you demonstrate that you are a team player who contributes to the company's culture.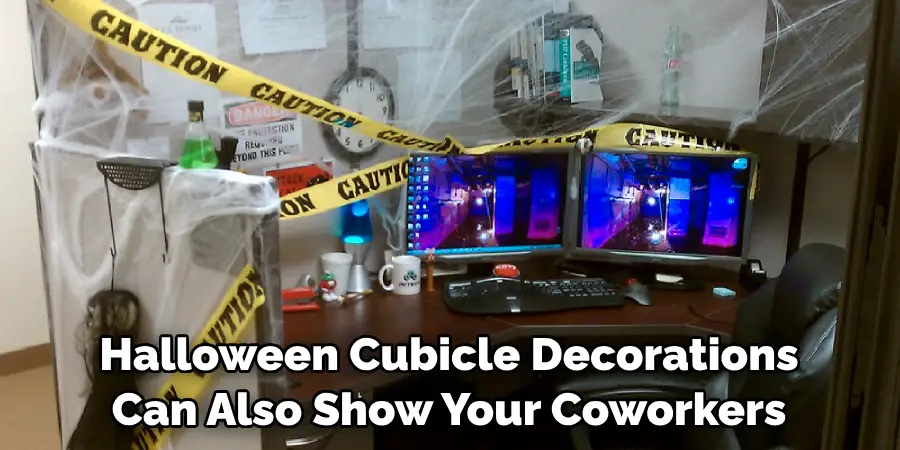 Finally, decorating a cubicle for Halloween can be a great conversation starter. It gives you the perfect opportunity to start conversations with your coworkers and build stronger relationships within the office. So go ahead – make your cubicle spooky this Halloween! It will not only liven up the office, but also help create a positive work atmosphere.
Setting the Tone for a Festive and Spirited Workplace Environment
When it comes to decorating for Halloween, the key thing to keep in mind is that there are no rules. It's all up to each individual's creativity and imagination! Taking a few cues from popular decorations like pumpkins, ghosts, and bats can be a great starting point. But don't forget to get creative with your decorations too!
One way to make sure everyone in the office has a festive and spirited environment is by having some fun activities planned throughout the day. This could include a costume contest, bobbing for apples, or playing Halloween trivia. It doesn't have to be anything complicated; just make sure it's something that gets everyone involved and laughing.
Furthermore, you can bring some spookiness into the workplace with decorations like fake spider webs, colored lights, and spooky music. Try adding some special effects to really set the mood – think fog machines, light projectors, and cauldrons of dry ice bubbling over. You don't have to go overboard either – a few simple touches can be enough to get people into the Halloween spirit.
10 Methods How to Decorate a Cubicle for Halloween
Method 1: Eerie Entrance
Set the tone for your Halloween-themed cubicle by creating an eerie entrance. Hang a creepy curtain or streamers made from black and orange crepe paper at the entrance of your cubicle. You can also add spiderwebs, bats, or other spooky elements to the curtain for an extra touch of fright.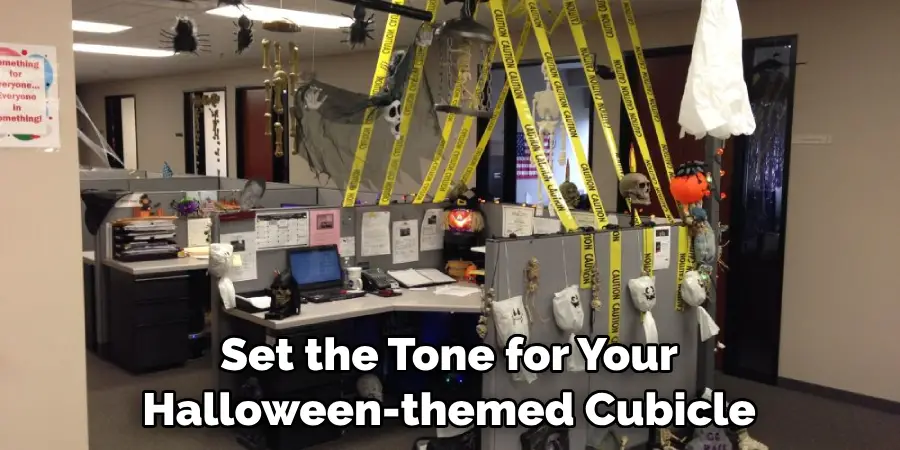 Place a decorative sign or message on the door to warn your visitors of what lies beyond. Additionally, you can use orange and black balloons to frame the entrance.
Method 2: Wicked Walls
Transform the walls of your cubicle into a spooky backdrop by using Halloween-themed wallpaper or posters. Alternatively, you can create your own eerie scene by drawing or painting on large sheets of paper and attaching them to the walls.
Images such as haunted houses, pumpkins, or ghosts can add a ghostly touch to your workspace. Use glow-in-the-dark paint to make your decorations really stand out and create an eerie feel.
You can also wrap streamers, rope lights, and other decorations around the cubicle walls. Spider webs are a classic addition to any Halloween-themed room. If you want to get creative, you can even create a 'maze' out of your cubicle walls by using crepe paper and other materials. This will make
Method 3: Sinister Lighting
Enhance the Halloween ambiance by incorporating unique lighting effects. Replace your regular desk lamp with a black or orange light bulb to create an eerie glow. Add battery-operated candles or string lights around your cubicle to create a hauntingly beautiful atmosphere. Consider using colored gels to cast spooky shadows on your workspace.
You could also invest in a fog machine to create an even more mysterious look. Make sure that you take all necessary safety precautions when using fog machines. With the right lighting, your cubicle will be transformed into a spooky setting that all your coworkers marvel at during the Halloween season.
Method 4: Wicked Window Display
If your cubicle has a window, take advantage of it by creating a captivating Halloween display. Decorate the window with creepy silhouettes, fake spiderwebs, or cutouts of pumpkins, bats, or witches. You can also use window clings or stickers to add a touch of spookiness.
For added effect, hang a string of blinking orange lights around the window frame. Finally, complete the look with some Halloween-themed curtains or shades. However, before you get started, make sure to check with your office building's policy about what type of decorations are allowed near windows.
Method 5: Ghostly Garlands
Hang Halloween-themed garlands or banners around the edges of your cubicle walls. Use materials such as black and orange paper, fabric, or even string together mini pumpkins or ghosts. These garlands will add a festive touch and create a cohesive Halloween look throughout your workspace.
Make sure to hang the garlands securely so they won't fall and create a hazard. To prevent any damage to walls or furniture, use removable adhesive hooks.
For a more spooky look, choose garlands with creepy icons such as bats or spiders. And for a festive touch, create one with images of jack-o-lanterns, candy corn or ghosts. Hang the garlands up for a perfectly haunted workspace!
Method 6: Petrifying Props
Bring in Halloween-themed props to add a playful and spooky element to your cubicle. Consider placing a cauldron filled with fake cobwebs and plastic spiders on your desk. Add a skeleton or a small scarecrow to a corner of your cubicle to give it a haunting touch. These props will instantly transform your workspace into a Halloween haven.
Method 7: Mysterious Music
Create a chilling auditory experience by playing Halloween-themed music or sound effects in the background. Choose eerie tunes, such as the soundtrack from classic horror movies or haunted house soundscapes. Keep the volume at a moderate level, ensuring it doesn't disturb your colleagues.
Method 8: Bewitching Bulletin Board
Give your office bulletin board a Halloween makeover. Cover it with black or orange fabric or paper and use decorative push pins or clips to hang Halloween-themed images, quotes, or jokes. You can also encourage your colleagues to participate by inviting them to contribute their own Halloween-themed artwork or messages.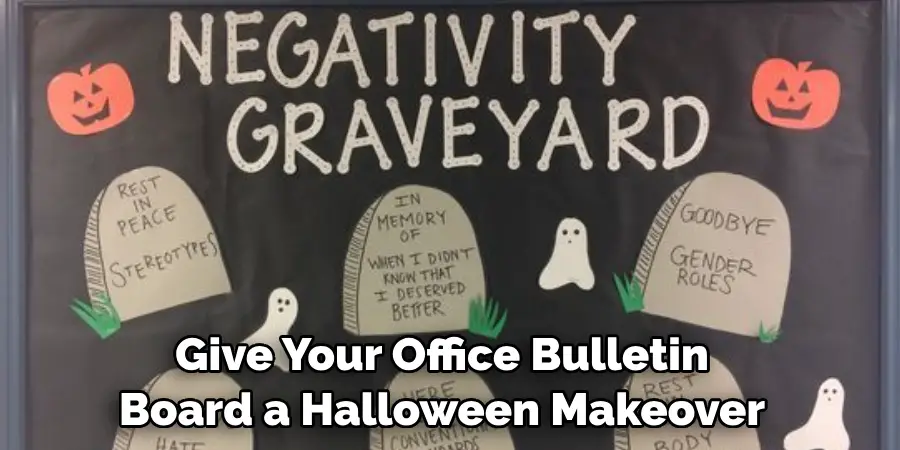 Method 9: Macabre Desk Accessories
Spruce up your desk with Halloween-themed accessories. Replace your regular pen holder with a pumpkin-shaped one or use skull-shaped paperweights. Decorate your computer monitor or laptop with spooky decals or themed screensavers.
Small details like these can make a big impact on the overall Halloween atmosphere in your cubicle. Don't forget to add some spider webs, creepy crawly bugs, or fake eyeballs for extra effect. Get creative and have fun with it!
Method 10: Spooky Snacks
Arrange a display of Halloween treats and snacks on your desk or a nearby table to delight your colleagues. Fill a cauldron or a decorative bowl with individually wrapped candies or chocolates. Consider making Halloween-themed snacks like spider-shaped cookies or "witches' brew" punch. Sharing these goodies will spread the Halloween spirit and foster a sense of community among your coworkers.
Conclusion
Halloween is the perfect opportunity to show off your creative side and transform your cubicle into a unique, eye-catching masterpiece. If you are stuck for ideas then remember the basics, like brightening up your space with streamers and balloons or adding any spooky decorations.
Have fun and get creative with it! With these simple tips you can now have an awesomely decorated cubicle that will make all of your coworkers scrunch their jaws in envy!
So go ahead and delve into the depths of your creativity. Who knows what wonderful ideas you'll find? Be sure to follow all instructions on how to decorate a cubicle for halloween carefully, and always consult an expert when in doubt. Happy decorating!