Are you a business owner or entrepreneur in need of some extra cash? Are you looking for ways to make use of your extra office space? If so, then subleasing might be the perfect solution for you.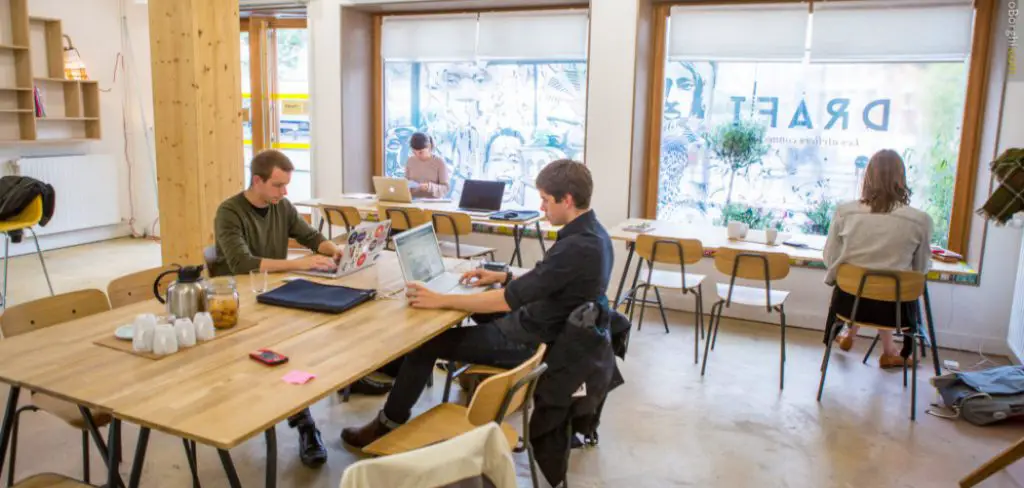 Subleasing is a great way to open up the potential income from your property without making any major changes, and it can provide much-needed financial assistance in these troubling times.
In this blog post, we'll discuss how to sublease your office space! We'll talk about what subleasing is, what rights landlords have over their tenants, tips for finding reliable renters, and best practices when setting prices and negotiating contracts.
So whether you're just getting started with subletting or if you've been doing it for years, this guide will help ensure that everything runs smoothly – and legally.
What is Office Sublease?
Office subleasing is when a business rents space from another tenant in a building or office complex. The original tenant (or "sublessor") signs a contract with the landlord and then rents out all or part of that space to another party (or "sublessee").
This allows the original tenant to profit from unused space without committing to long-term contracts. It also gives businesses access to prime commercial real estate without paying for it themselves.
What Will You Need?
Before you can sublease your office space, there are a few things that you'll need to take care of first. These are as follows:
A lease agreement with the landlord.
Get approval from your landlord to sublease your office space.
Draft a sublease agreement between you and the renter that sets out all of the terms and conditions of the rental arrangement.
Make sure that both parties are aware of their rights and responsibilities under the agreement.
10 Steps on How to Sublease Your Office Space
Step 1. Gather all the Documents:
Before you start the process, ensure you have all the necessary documents in place. This includes your lease agreement with the landlord and any other paperwork related to your tenancy. If you don't already have one, draft an agreement between you and the renter that outlines all of the terms and conditions of the rental arrangement.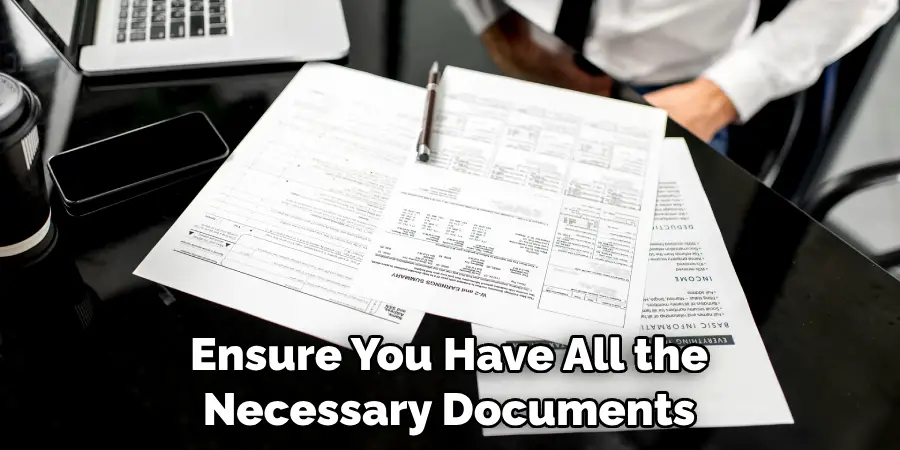 Step 2. Get Approval:
Before you can sublease your office space, you'll need to get approval from your landlord or property manager. Make sure to check with them before signing anything or agreeing to terms with a potential tenant. Don't forget to ask them about any restrictions or rules related to subleasing in your building as well.
Step 3. Find Qualified Tenants:
Finding reliable tenants for your office space is key to making sure that everything runs smoothly and that rent is paid on time. Look for referrals from friends or colleagues who might know of someone looking for an office space, post ads online, use social media outlets like LinkedIn and Facebook, or even try search engines like Google.
Step 4. Choose the Best Options:
Once you have potential tenants lined up, getting a feel for their qualifications and suitability for your office space is important. Ensure to thoroughly examine each applicant's credit history, references, and other pertinent information. Ask questions that will help you determine if they're financially secure and responsible enough to rent out your space.
Step 5. Negotiate the Terms of the Contract:
When negotiating with potential renters, ensure that all of the terms are set in writing from the beginning. This includes things like rental price, length of lease, security deposit amount, and rights/responsibilities on both sides. Ensure everyone is on the same page and review any applicable laws or regulations beforehand so you know what's legal in your area.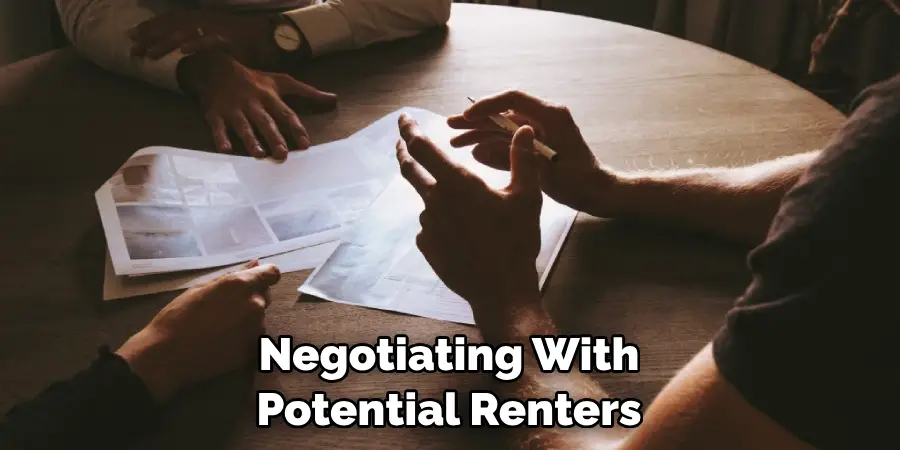 Step 6. Draft the Sublease Agreement:
Once all the terms have been agreed upon, it's time to draft a sublease agreement. Make sure that this document is as clear and detailed as possible to avoid misunderstandings later on. Try to include things like the length of the lease, rental amount, security deposit, and any other relevant information.
Step 7. Sign & Execute the Contract:
Once the contract is finalized, both parties should sign and execute it. Make sure to get a copy of the document for your records and send one to the renter as well. Be careful to keep everything above board and in accordance with the law.
Step 8. Collect Security Deposit:
It's important to collect a security deposit from the renter in case any damage occurs, or rent isn't paid on time. Make sure that this amount is included in your sublease agreement and ensure that it's collected prior to the tenant moving in. Remember that all security deposits must be returned within a certain amount of time, depending on your state.
Step 9. Set Up Move-In Date:
When setting up move-in dates, make sure that you give yourself plenty of time to prepare for the transition and handle any last-minute tasks before handing over the keys. Ensure that the renter is aware of their rights and responsibilities upon moving in, such as what to do if any issues or repairs are needed.
Step 10. Monitor & Renew:
Ensure to stay in contact with the renters throughout their lease and remind them of any upcoming due dates or renewal periods. This will ensure that you're always on top of things and can avoid potential conflicts. Always follow all applicable laws regarding subleasing and ensure that both parties know their rights.
By following these steps, you should be able to sublease your office space without any major difficulties successfully. Just make sure you take the time to research and choose qualified renters who are reliable and responsible.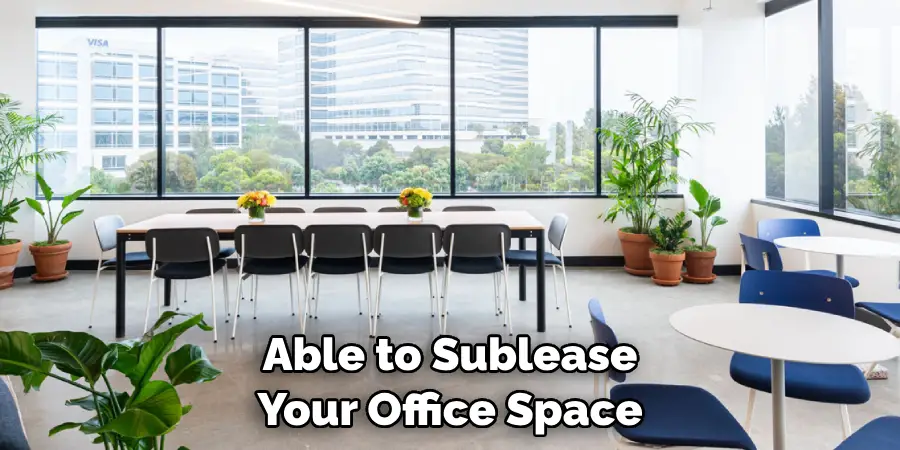 5 Additional Tips and Tricks
1. Make sure to check all local zoning regulations before subleasing your space. Some areas may prohibit certain activities, like running a business out of the office.
2. Make sure to include a clause in your agreement that allows you to terminate the sublease if necessary. This will give you some peace of mind if something goes wrong with the tenant.
3. Consider hiring a real estate lawyer to review your lease and ensure it is legally binding. This will help protect you from any potential legal liabilities associated with subleasing.
4. Get an insurance policy for your office space before subleasing it out, as many insurance companies require this before they'll provide coverage.
5. Advertising is key when subleasing your office space – make sure to spread the word about your available space through local newspapers, online classifieds, and other relevant channels so that people know it's available.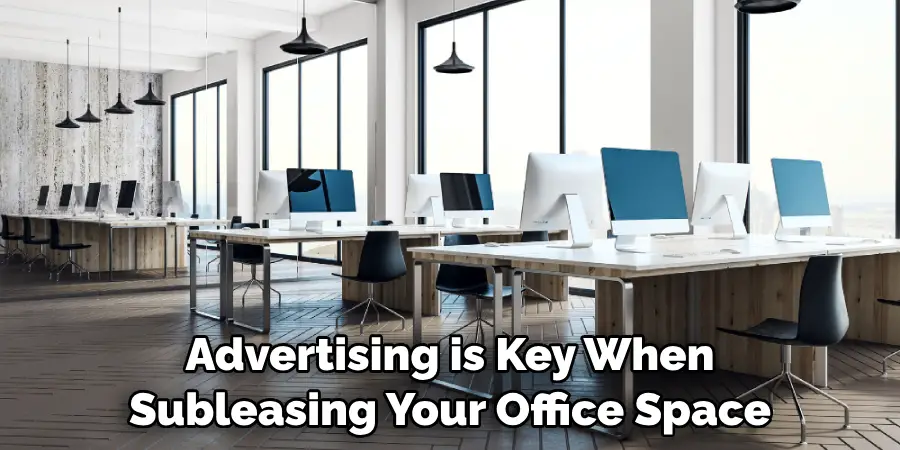 With these tips and tricks in mind, you can ensure that your office space will be subleased quickly and efficiently. As long as you've researched and prepared a legally sound agreement, you can rest easy knowing that you're taking the right steps to protect yourself and your tenant.
5 Things You Should Avoid
1. Don't forget to do a thorough background check on all potential tenants. This will help protect you from any potential legal or financial liabilities associated with subleasing.
2. Don't forget to create a detailed inventory list of all items in the office space before allowing anyone to move in. This will ensure that you don't have any disputes over damages or missing items caused by the tenant's stay.
3. Disagree on a price without first researching and getting quotes from other landlords renting similar spaces for comparison. Doing this will help you set the right rental rate for your office space and maximize profits.
4. Avoid agreeing to long-term contracts without an exit strategy if things don't work out with the tenant. It's important to have a plan for ending the agreement should the need arise.
5. Do not rush into any agreement without thoroughly reading and understanding all of its terms and conditions. It's important to be aware of all your rights and responsibilities when subleasing your office space, so make sure to read everything carefully before signing on the dotted line.
By following these tips and avoiding potential pitfalls, you can ensure a successful subleasing experience for both you and your tenant. By taking the time to do it right, you can protect yourself from potential legal liabilities while also maximizing profits.
Conclusion
How to sublease your office space is a great choice for entrepreneurs, freelancers, and small business owners when it comes to saving money and boosting morale. Aside from just lowering costs, it has a host of associated benefits.
Working alongside other businesses in the same space helps foster the spirit of collaborative entrepreneurship while cutting down on the financial burden for business owners. It's important to keep in mind that having an attractive office space and signing on the right tenants can take some time and effort to get the right value out of any sublease agreement.
After considering one's needs, the conditions of the workspace, and the budget allocated for rent, it is clear that subleasing office space will prove to be a beneficial option for those looking to save money without sacrificing quality.