Getting rid of old office chairs can be a tricky job; they are bulky and hard to maneuver around tight spaces, and with all the different types available, it can be difficult to know where to even start. The good news is that there are plenty of options for properly disposing of or donating your used chairs without breaking the bank!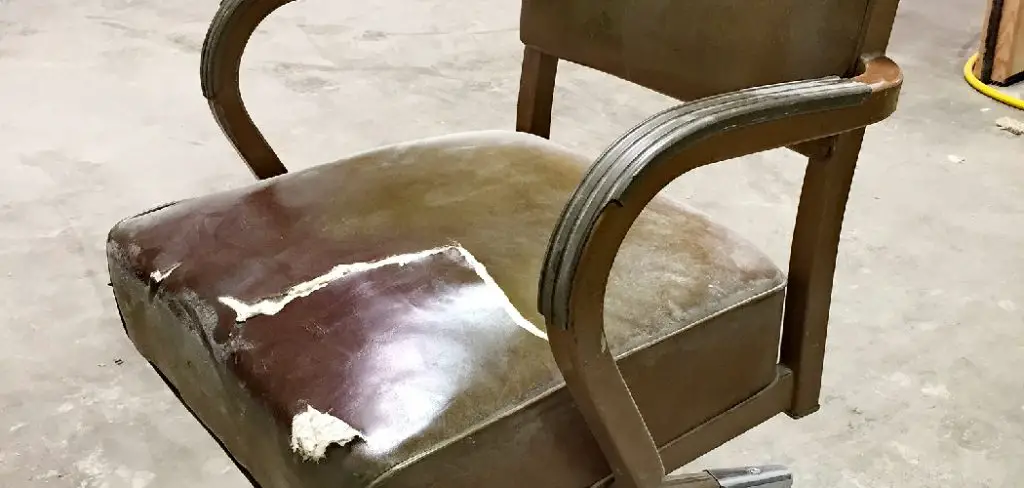 In this blog post, we'll provide you with essential information, such as how to evaluate whether a chair is worth keeping, guidelines on determining which disposal route will work best for your situation, and tips on how to get rid of old office chairs.
With these helpful pointers in hand, you'll feel confident tackling the task at hand and breathe easy, knowing that those outdated office chairs have been given new life.
Can Office Chairs Be Dismantled?
Yes, office chairs can be dismantled and recycled. Many manufacturers will provide instructions along with the chair purchase, or they can be found online.
You'll need a few basic tools such as pliers and screwdrivers, to take apart the parts of the chair. Disassembling the chair into its component parts makes it easier for recycling centers to process them. It's important to remove any removable parts, such as the cushions, and dispose of these items according to local regulations.
Once all the components have been removed, you can place them in separate recycling bags or bins ready for collection. As an extra step for safety and protection, consider placing the parts in large plastic bags that won't tear. This will help protect your hands and ensure that any sharp edges are not exposed while you are handling the chair.
It is also important to make sure that all pieces of the chair, including screws, nuts, and bolts, are securely fastened before disposal. Doing so will ensure that members of the public or workers at a recycling center don't get hurt while handling the chair. Most recycling centers will accept office chairs and other furniture provided it has been dismantled into parts. 
7 Methods on How to Get Rid of Old Office Chairs
1. Donate Them to a Local Charity.
This is a great option if your chairs are in good condition and you want them to go to a worthy cause. There are many charities that accept office furniture donations, such as Goodwill, the Salvation Army, and Habitat for Humanity.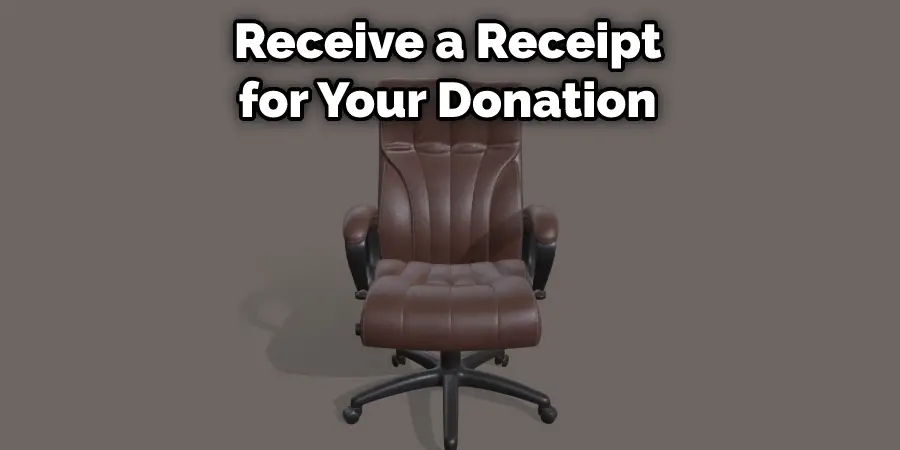 Before donating, be sure to check the charity's website for more information on their donation requirements and policies. If you choose to donate, make sure you receive a receipt for your donation.
2. Sell Them Online.
If you're looking to make a little bit of money from your old office chairs, selling them online is a great option.
There are a number of websites where you can sell used furniture, such as Craigslist, eBay, and Facebook Marketplace. Make sure to provide a detailed description of the chairs and include photos from multiple angles. 
When pricing them, consider the condition of the chairs, as well as the demand for those styles in your area. You may also want to consider offering delivery services, as this can help you attract more potential buyers.
It's important to be aware of the laws and regulations in your area when selling furniture online, so make sure you research this before advertising. Selling old office chairs online can be a great way to make some money, so give it a try!
3. Give Them to a Friend or Family Member.
If you have someone in mind who could use your old office chairs, giving them away is a great option. This is especially true if the chairs are in good condition and you don't need the money from selling them.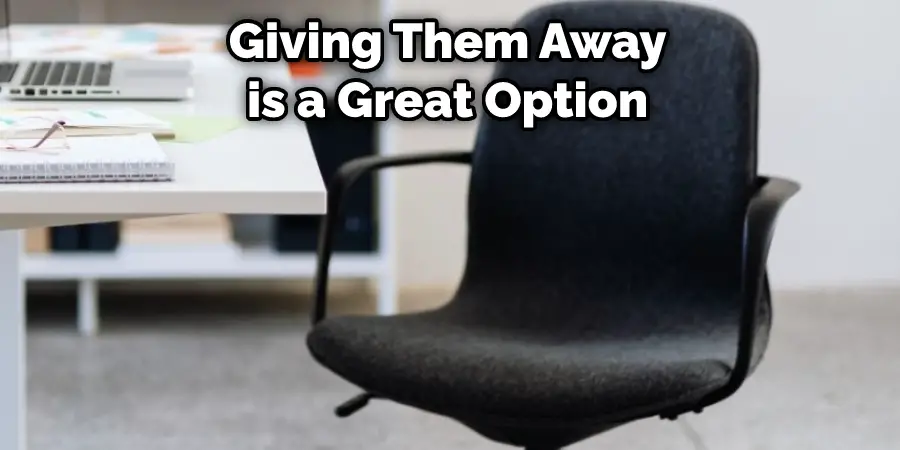 If you know someone who is starting up their own office or needs additional chairs, they may be willing to take them off your hands. You can also check with your local library, community center, or school to see if they need additional seating. If so, you'll be helping out a good cause while getting rid of your old chairs.
4. Use Them for Home Office Furniture.
If you're setting up a home office, using your old office chairs is a great way to save money. This is especially true if the chairs are comfortable and in good condition. If you're concerned about the aesthetics of your home office, consider giving the chairs a new coat of paint or fabric. 
This will make them look more attractive and give them a much-needed facelift. Consider donating the chairs to family members or friends once you're done with them. This is a great way to recycle your old office furniture and help those in need.
5. Donate Them to a School or Nonprofit Organization.
There are many schools and nonprofit organizations that could use donated office furniture, so this is another great option for getting rid of old chairs. Be sure to check with the organization first to see if they have any specific requirements for donated furniture. 
Many organizations that accept donations of furniture may offer to pick up the chairs if they are in good condition. Otherwise, you might need to arrange for them to be transported. Either way, donating the chairs is a great way to give back and help those in need.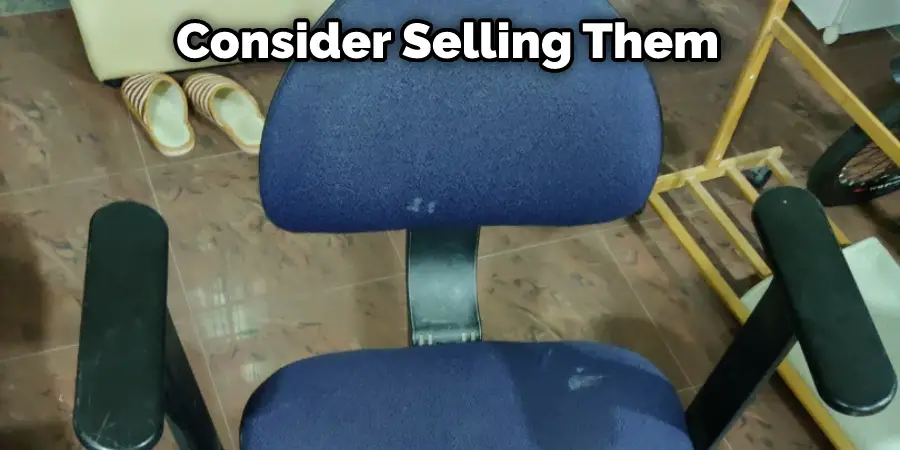 If you don't want to donate the chairs, you can also consider selling them or giving them away for free. This is a good option if they are still in working condition and could be used again. There are many websites and classified listing sites that offer free listings for furniture, so it's worth checking out.
6. Recycle Them.
If your chairs are made of metal or plastic, recycling them is a great way to give them new life while also helping the environment. Check with your local recycling center to see what materials they accept and what the process is for recycling furniture. 
If you're lucky, they may even be able to pick up the chairs from your office. Some furniture manufacturers partner with recycling centers, so you can even return your furniture to the manufacturer for recycling. If you decide to recycle, make sure to remove any upholstery as it's not recyclable.
7. Upcycle Them into Something New.
If you're feeling creative, upcycling your old office chairs into something new is a great way to give them new life while also adding some personality to your space. There are many different ways you can upcycle furniture, so do some research online or ask someone at your local hardware store for ideas.
You could reupholster them with some fun fabric, paint them a new color, or even use the pieces to create something entirely new, like a coat rack or a bench.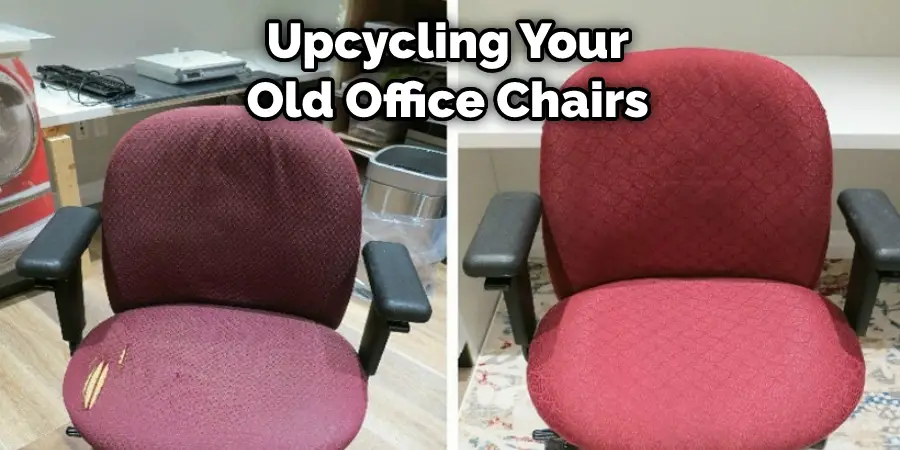 Whatever you decide to do, upcycling your old office chairs is a great way to make them feel fresh and new again. Additionally, you'll be able to show off your creative side and add some unique touches to your office space. So try it out and see what you can make!
No matter what you decide to do with your old office chairs, taking the time to properly dispose of them is key. Doing so will help keep the environment clean and reduce waste while also ensuring that others can benefit from your unwanted furniture. Choose one of the options above and get rid of your old office chairs in a responsible way.
Conclusion
If your office chairs are starting to show their age, it might be time for an upgrade. Newer models offer a variety of features that can help improve your posture and keep you comfortable during long hours at your desk. 
When shopping for new office chairs, keep in mind the type of materials you prefer, the adjustability options that will work best for you, and whether you need extra features like lumbar support or headrests. 
With so many choices on the market today, there's sure to be a perfect match for both your needs and your budget. Thanks for reading our blog post on how to get rid of old office chairs! We hope you found it helpful and informative.