Are you looking to get rid of some used office furniture? Here are some tips on how to do it. 
When your business is growing, you might find that you need to get rid of some of your old office furniture and replace it with new, larger pieces.
If you're like most people, you have a few pieces of used office furniture lying around your house. Maybe it's an old desk or a chair with a broken leg. Rather than letting that furniture collect dust, here are some ways to get rid of it quickly and easily.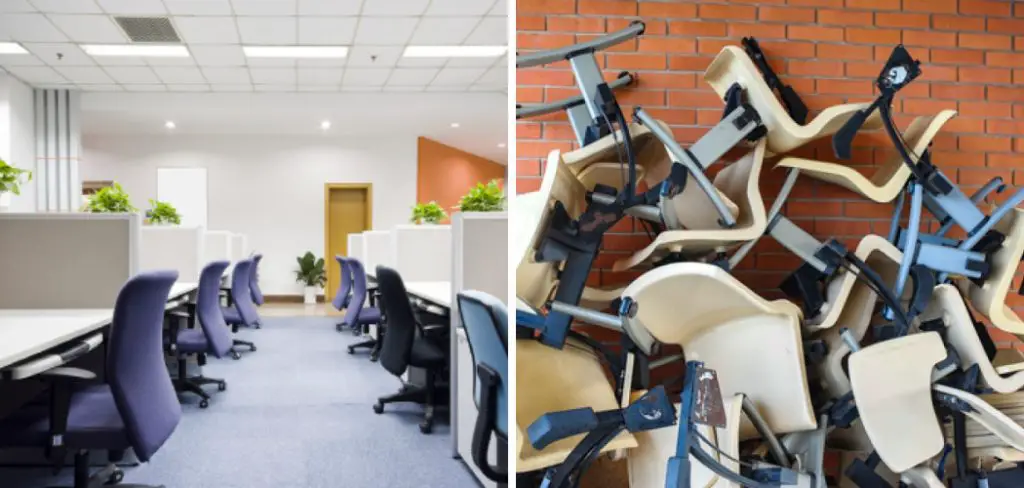 However, before you go out and spend a lot of money on new furniture, there are a few things you can do to try to get rid of your old furniture first. In this blog post, we will discuss some tips about how to get rid of used office furniture. Keep reading for more information!
Why Do You Need to Get Rid of Used Office Furniture?
There are a few reasons why you might need to get rid of used office furniture.
First, your business is growing, and you need bigger, better furniture to accommodate your increasing needs.
Another reason could be that the furniture has become worn out or broken and is no longer usable.
Or, maybe you are moving offices and need to remove old furniture that won't fit in the new space.
Whatever the reason, getting rid of used office furniture can be a daunting task. But with some planning and effort, it can be accomplished successfully.
10 Easy Steps on How to Get Rid of Used Office Furniture
1. Donate to a Local Charity or Nonprofit Organization. 
Many organizations always need furniture and would be happy to take yours off your hands. Be sure to call ahead and check with the organization about their specific donation guidelines, as some may have restrictions on what they can accept.
You may also want to ask if they can pick up the furniture from your location, as this will save you time and effort in transporting it. Donating to charities is a great way to give back to your community while getting rid of old office furniture.
2. Sell on Online Marketplaces. 
There are numerous online marketplaces where people buy and sell used furniture, such as Craigslist and Facebook Marketplace. Before listing your furniture, make sure to take clear, high-quality photos and write a detailed description of the item's condition.
You may also want to include the dimensions and any other important information about the piece in your listing. Be prepared for potential buyers to negotiate with you on price and be willing to meet at a public location for the transaction. Selling your furniture online is a great way to make some extra money while getting rid of old office furniture.
3. Offer to Your Employees or Coworkers. 
If your employees or coworkers need furniture, offer them yours for a discounted price or even for free.
This is a great way to save on buying new furniture for them and getting rid of your old pieces simultaneously.
Make sure the furniture is still in good, usable condition before offering it to someone else.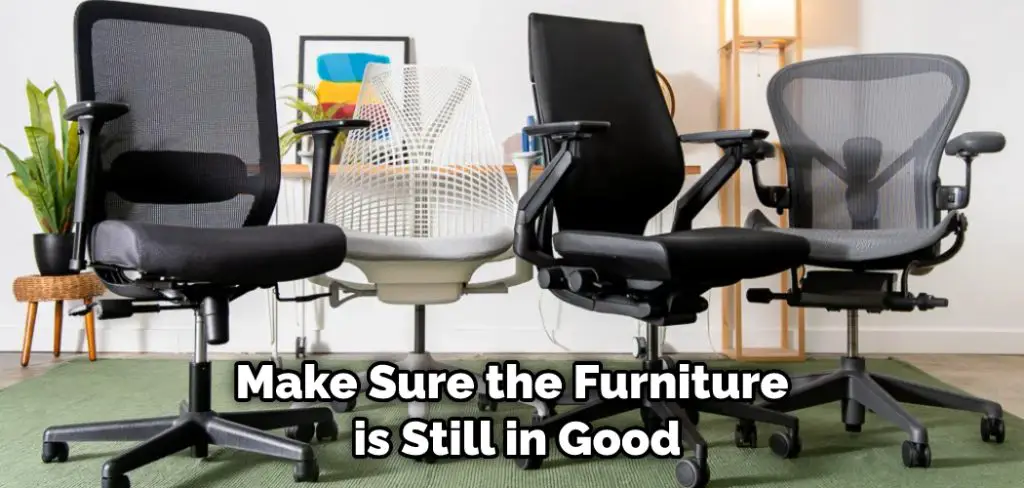 4. Trade In with Your Office Furniture Provider. 
Many office furniture providers offer trade-in programs where you can exchange your old furniture for a discount on new pieces.
Check with your current provider or look into other companies to see their trade-in policies and if it is worth it.
5. Sell to a Used Furniture Store.  
Some stores specialize in buying and selling used furniture.
These stores typically have an even larger market than online marketplaces, and they may be able to pick up the furniture from your location as well.
6. Host a Garage Sale. 
If you have multiple pieces of old office furniture, consider hosting a garage sale to sell them all at once.
Advertise the garage sale in your neighborhood or on online marketplaces and set up a designated area for the furniture.
Be prepared for some haggling with prices, and make sure you have enough space to display the furniture for potential buyers properly.
7. Give Away for Free on Online Marketplaces. 
Sometimes people just want something for free, and giving away your old office furniture on online marketplaces is a great option.
Include in the listing that the person will need to pick up the furniture from your location and be prepared for a potentially high volume of responses.
8. Upcycle or Repurpose the Furniture. 
If your old office furniture is still in decent condition, consider upcycling or repurposing it instead of completely removing it.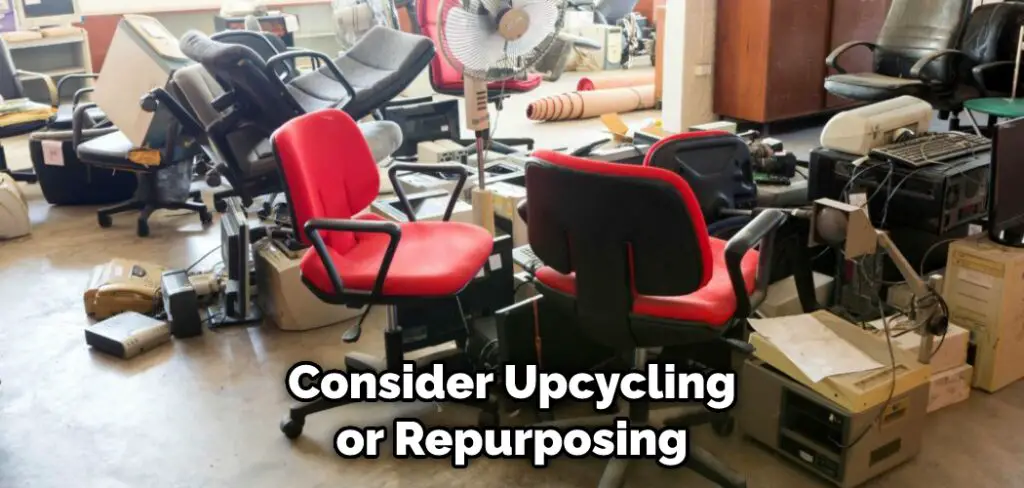 Numerous DIY projects can give you ideas on transforming furniture into something new and unique.
This is a great way to get creative and give your old furniture a new lease on life.
9. Contact Your City's Bulk Trash Pickup Program. 
Many cities offer bulk trash pickup services for larger items, such as furniture.
Call or check online to see if your city offers this service and the guidelines and schedules for pickup.
This is a convenient option for disposing of your old office furniture.
10. Contact Local Trash and Recycling Services. 
If none of the above options are possible, contacting local trash and recycling services is another way to dispose of old office furniture properly.
Be prepared for potential fees, and make sure to follow any guidelines for the disposal of furniture.
Getting rid of old office furniture may seem daunting, but with these options, you can easily and efficiently eliminate your unwanted pieces. Whether you sell it, give it away, or repurpose it, getting rid of old office furniture can open up space for new items and bring in some extra money or savings.
Additional Tips and Tricks
Before getting rid of your old office furniture, make sure to thoroughly clean and disinfect it to prevent the spread of germs.
Take measurements before purchasing new furniture to ensure that it will fit in the designated space.
Consider donating your furniture to a local charity or non-profit organization in need instead of disposing of it.
If possible, try to recycle or properly dispose of any materials from the furniture instead of throwing them in the trash.
Make sure to check with your company or building's policies on disposing of office furniture before getting rid of it.
If you have multiple pieces of furniture to get rid of, consider doing bulk disposal or selling them all at once instead of individually.
Don't forget to de-clutter and properly organize your office space before bringing in new furniture. This can help maximize the efficiency and functionality of the space.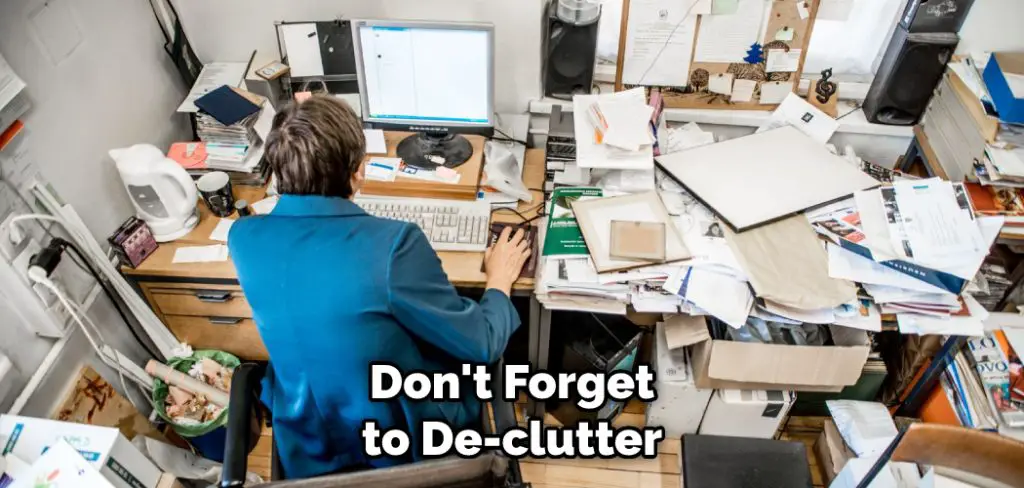 These tips can help make the process of getting rid of old office furniture easier and more efficient. Keep them in mind as you go through the process to ensure a smooth transition to new furniture.
How Can You Dispose of a Wooden Desk?
Determine if the desk can be donated or sold. Contact local charities or second-hand furniture stores to see if they are interested in taking the desk off your hands.
If unable to donate or sell, contact your local solid waste management department for information on proper disposal options for wooden furniture. This may include scheduling a bulk pick-up or taking the item to a designated drop-off location.
If disposing on your own, dismantle the desk as much as possible to make it easier to transport and dispose of properly. Check with your local recycling center to see if they accept wooden furniture for recycling.
If all else fails, contact a junk removal service to dispose of the desk properly. Be sure to ask about their disposal methods and ensure they are eco-friendly.
How Can You Restore Old Office Furniture?
Take inventory of the furniture and assess what can be salvaged or repaired.
Sand down any old paint or finishes and apply a fresh coat in a new color or stain.
Replace worn-out hardware or add decorative touches such as new knobs or handles.
Replace damaged or worn-out parts, such as broken chair legs or desk drawers.
Consider repurposing the furniture for a different use, such as turning a filing cabinet into a bar cart or a bookshelf into a plant stand.
Get creative and have fun with it! Upcycling old furniture can bring new life to your office space.
If you are unsure of how to restore the furniture yourself, consider hiring a professional or taking a class on furniture refurbishing.
Conclusion
It's important to take the time to figure out how to get rid of used office furniture in an eco-friendly way. The landfill is not always the best answer, and donations should also be considered. With a little effort, you can ensure that your company's old furniture doesn't pollute the environment.
If you need to get rid of used office furniture, a few options are available. You can try selling it online, working with a furniture donation center, or partnering with a company that specializes in recycling or disposing of old furniture.
Thanks for reading! We hope this information on how to get rid of used office furniture was helpful. Happy furniture disposal!