In today's busy and open office environments, maintaining focus and productivity can be a challenge, especially when noise levels disrupt concentration. If you find yourself constantly distracted by conversations, phone calls, or other ambient sounds, soundproofing your cubicle can provide the solution you need.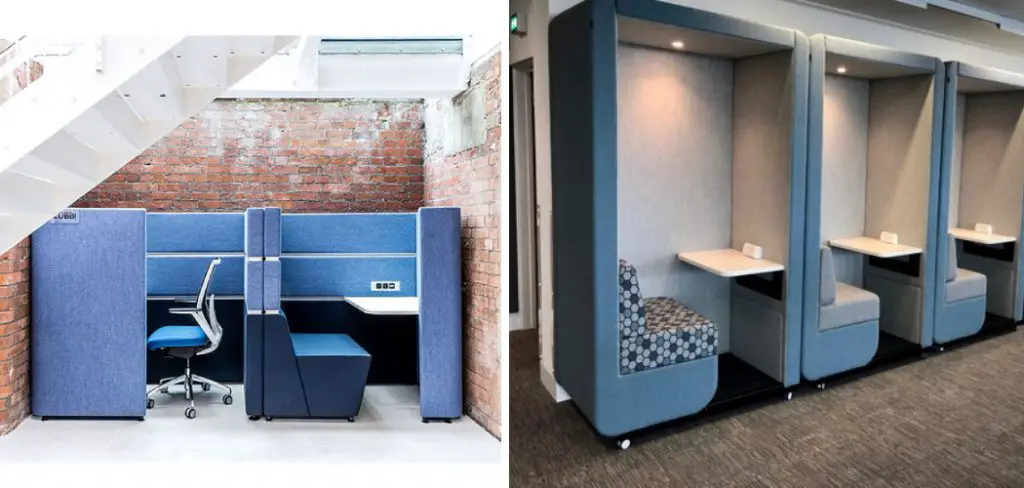 By implementing effective soundproofing techniques, you can create a peaceful and quiet workspace that enhances productivity and reduces stress. In this article, we will delve into how to soundproof a cubicle and provide you with practical methods to minimize unwanted noise.
From simple adjustments to more advanced solutions, we will explore a range of options that cater to different budgets and preferences. So, whether you're an office worker seeking a peaceful sanctuary or a manager aiming to improve the overall working environment, this guide will equip you with the knowledge and techniques to soundproof your cubicle effectively.
Importance of a Quiet and Focused Workspace
In a busy workplace, maintaining a quiet and focused workspace is essential for productivity. A noisy cubicle can be distracting, making it difficult to focus on tasks and complete projects efficiently. Soundproofing your cubicle can reduce the noise from outside sources, allowing you to concentrate better and have an increased level of comfort while at work.
Not only can soundproofing help you become more productive, but it can also have a positive effect on the overall work environment.
A quieter work atmosphere can lead to improved communication and collaboration between employees, making for an even more efficient workplace. Therefore, soundproofing a cubicle is beneficial not just for individual comfort but for the overall success of the business.
If you are considering soundproofing your cubicle, there are several options available depending on your budget and space constraints. The most common approach to soundproofing involves adding acoustic panels or other materials to reduce reverberation and echoes within the workspace area.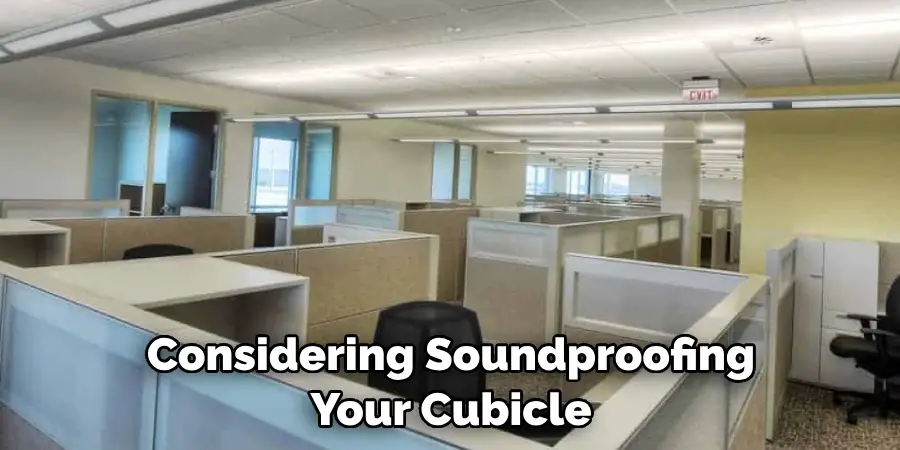 Alternatively, using curtains or heavier fabrics around the workspace can further reduce noise from outside sources. Ultimately, creating a quiet working environment takes careful consideration and planning, but the rewards of increased focus and productivity are worth it.
Benefits of Soundproofing a Cubicle
Soundproofing a cubicle has many benefits both for the employees working in them and their employers. Soundproofing helps to create a quieter and more peaceful work environment, reduces stress, increases productivity, and helps prevent distractions.
It also helps protect employees from noise-related health issues such as hearing loss, tinnitus, insomnia, migraines, and fatigue.
Additionally, soundproofing can reduce employee turnover rates by providing a comfortable working atmosphere. Lastly, soundproofing cubicles is an effective way to contain confidential conversations within the cubicle space. This ensures that sensitive information remains secure and out of the range of other people's ears.
Overall, soundproofing a cubicle is beneficial for both employers and employees alike. It provides not only greater peace of mind and comfort but can also have long-term benefits relating to increased job satisfaction and security. Thus, for businesses looking to create a more pleasant and productive environment, soundproofing cubicles is an excellent option.
10 Methods on How to Soundproof a Cubicle
Method 1: Choose a Cubicle with Soundproofing Features
When selecting a cubicle or partition, opt for one that has built-in soundproofing features. Look for cubicles with thicker panels and materials designed to absorb and block sound.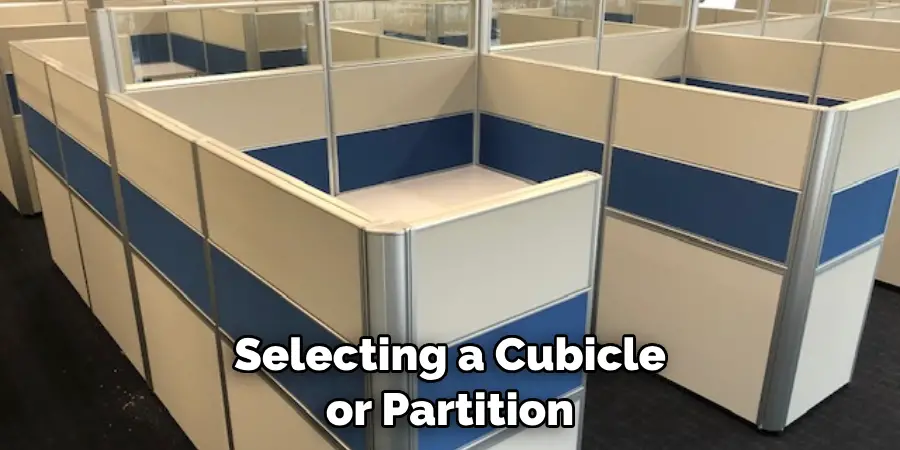 These specialized cubicles can significantly reduce noise transmission and create a quieter work environment. Additionally, consider purchasing a cubicle with an acoustic hood or sound baffles. These can be added on to the existing cubicle frame and provide additional soundproofing.
Method 2: Rearrange Your Workspace
One of the simplest ways to reduce noise in your cubicle is to rearrange your workspace strategically. Position your desk or work area away from high-traffic areas or noisy equipment.
Place bookshelves or cabinets along the walls to act as sound barriers and absorb sound waves. You can also add additional furniture to further block sound or create a sense of privacy.
Adding plants or soft fabrics like rugs and curtains to your cubicle can also help absorb sound. These are especially helpful if you're stuck with an open-concept workspace, as they can reduce the echo in the room.
Additionally, keep your desk and other surfaces clear of clutter to reduce unwanted noises from items rubbing together or clanging against each other.
Method 3: Use Sound-Absorbing Materials
Incorporate sound-absorbing materials into your cubicle to dampen noise. Consider adding acoustic panels, which are specifically designed to absorb and reduce sound. Place these panels strategically on the walls or hang them from the ceiling to create a barrier that absorbs and dissipates noise.
Acoustic foam is another material that can reduce reverberation within the cubicle. You could also purchase acoustic curtains or sound-dampening blankets to hang on the walls or even line the cubicle ceiling with them.
Method 4: Seal Gaps and Cracks
Identify any gaps or cracks in your cubicle that may allow sound to penetrate. Use weather stripping or foam tape to seal these openings. Pay particular attention to areas around doors, windows, and electrical outlets.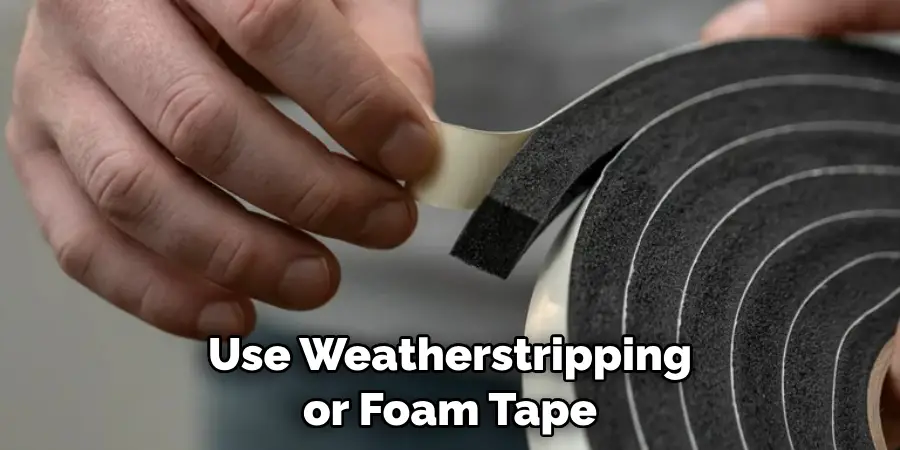 By eliminating these gaps, you can significantly reduce the transmission of sound into your workspace. Additionally, you may also choose to apply a self-adhesive foam sound barrier material around the perimeter of your cubicle to add another layer of soundproofing.
Method 5: Install Soundproof Curtains or Blinds
Hang soundproof curtains or blinds on the windows of your cubicle to block external noise. These specialized curtains are made from dense materials that absorb sound waves. They can effectively reduce noise infiltration while also adding a touch of privacy and visual appeal to your workspace.
To choose the right soundproof curtains, look for products with thick fabrics and acoustic-dampening layers. When installing them, be sure to measure your windows carefully and follow the product's instructions for proper placement.
Method 6: Add Background Noise
Counteract distracting sounds by introducing soft, consistent background noise. Use a white noise machine or play ambient sounds such as rainforest sounds or instrumental music. This gentle background noise can mask external sounds, creating a more peaceful and focused atmosphere within your cubicle.
You can also combine this method with other soundproofing measures for maximum effectiveness. For example, install thick curtains around your cubicle and use a white noise machine to create a soft, peaceful atmosphere. This combination can really help you stay focused and minimize distractions from outside noises.
Method 7: Use Soundproof Dividers
If your cubicle is open on one or more sides, consider using soundproof dividers to create additional privacy and noise reduction. These dividers can be placed strategically to block sound and create a sense of enclosure within your workspace.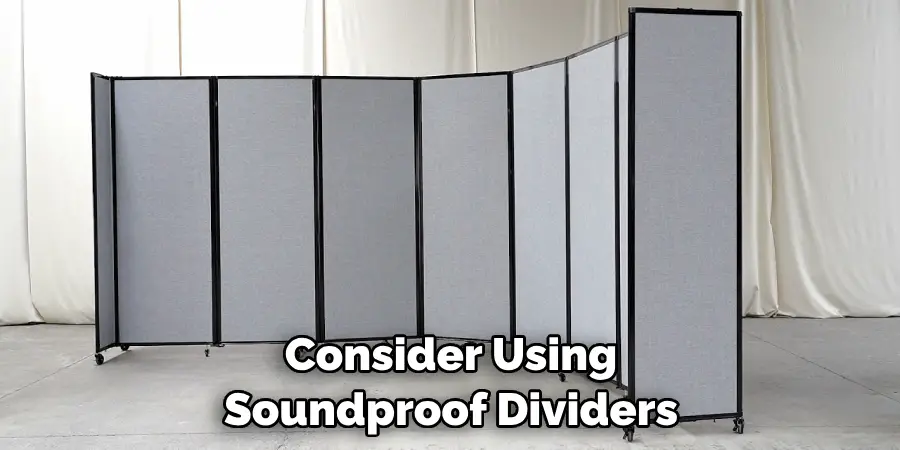 Look for dividers that are designed with sound-absorbing materials and acoustic panels. This can be an effective way to reduce noise levels in the cubicle while still allowing you to remain in contact with your team.
Method 8: Use Noise-Canceling Headphones
Invest in a pair of high-quality noise-canceling headphones to block out surrounding noise. These headphones use advanced technology to analyze and counteract incoming sound waves, effectively canceling out ambient noise.
This allows you to create your own quiet oasis within your cubicle. Keep in mind that these headphones are more effective at canceling low-frequency sounds than higher-pitched noises. If your cubicle neighbors are using loud equipment or talking loudly, this method may not be as effective.
Method 9: Implement Soft Surfaces
Incorporate soft surfaces into your cubicle to absorb sound. Add a rug or carpet to the floor, which can help dampen noise transmission. Use fabric-covered panels or acoustic baffles on the walls to further absorb sound waves.
These soft surfaces can make a noticeable difference in reducing noise levels. Additionally, curtains and other textiles can be used to create a sense of privacy. They also help absorb sound from reaching beyond the cubicle walls.
Method 10: Educate Colleagues on Noise Etiquette
Promote a culture of respect for noise levels in your office by educating your colleagues on noise etiquette. Encourage conversations to be held in designated areas or conference rooms. Remind everyone to use headphones when listening to music or watching videos.
By fostering a culture of consideration, you can collectively create a quieter and more conducive working environment. You can also ask your colleagues to avoid loud conversations and be mindful of their volume when speaking. With a little bit of consideration, everyone in the office can enjoy a peaceful and productive day.
Conclusion
In today's bustling office environments, soundproofing your cubicle has become a necessity to maintain focus, productivity, and overall well-being. By implementing the ten effective methods discussed in this article, you can significantly reduce unwanted noise and create a peaceful sanctuary within your workspace.
Whether you choose to rearrange your cubicle, use sound-absorbing materials, install soundproof curtains, or utilize noise-canceling headphones, each method offers its unique benefits in minimizing distractions. Remember that soundproofing is a customizable process, and it may require a combination of techniques to achieve optimal results.
By creating a quiet and serene environment, you can enhance concentration, reduce stress, and boost overall job satisfaction. Follow these simple instructions outlined in this blog post about how to soundproof a cubicle and you'll be able to get the job done with ease.